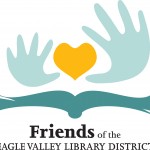 The Friends of the Eagle Valley Library District is an organization which strives to promote and improve library services, materials and facilities for the EVLD community; to stimulate gifts and bequests to the library; to provide volunteer support for the libraries' programs; to raise funds for immediate and long-range projects; and to encourage the broadest possible use of the libraries' facilities, materials, and services.
As a Friend…
· You will join other concerned community members dedicated to promoting the value of books, libraries, reading, and literacy.
· You will be recognized in the Eagle Valley Library District's Annual Report.
· You will receive a subscription to Prologue, the library district's quarterly newsletter, which features information on upcoming library events and programs.