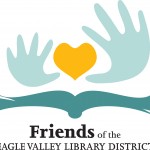 The Friends of the Eagle Valley Library District is an organization which strives to promote and improve library services, materials and facilities for the EVLD community; to stimulate gifts and bequests to the library; to provide volunteer support for the libraries' programs; to raise funds for immediate and long-range projects; and to encourage the broadest possible use of the libraries' facilities, materials, and services.
As a Friend…
You will help ensure that the library has a strong base of community support to seek adequate funding to maintain high-quality programs and services.
You will join other concerned community members dedicated to promoting the value of books, libraries, reading, and literacy.
You will have the opportunity, if you choose, to volunteer time to the library or to activities sponsored by the Friends.
You will receive a subscription to Prologue, the library district's quarterly newsletter, which features information on upcoming library events and programs.